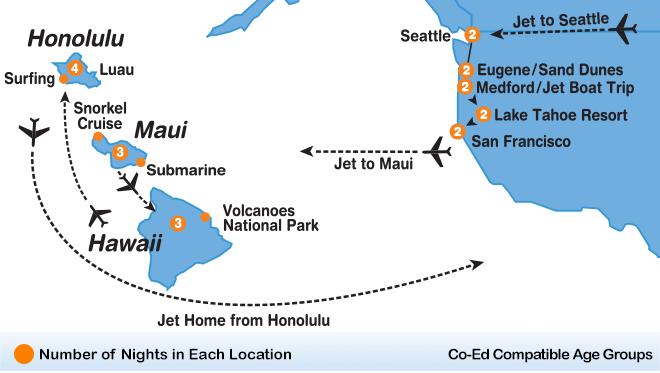 Hawaiian Caper is the ultimate summer teen tour adventure. Our journey begins as we jet to Seattle, where we'll enjoy ice breakers as we meet all of our new friends. In Seattle, we'll walk though Pike Place Market, go to the top of the Space Needle, rock out at MoPOP (Museum of Pop Culture) and battle our friends at Whirlyball.
The action continues on our teen tour as we make two stops in Oregon. In Eugene, our teenagers will visit the University of Oregon and we'll fly across the sand dunes along the coast on our outrageous Sandrail Dune Buggy Ride. In Medford, we'll get soaked on our thrilling jet boat trip up and down the Rogue River.
The fun continues as we head to Lake Tahoe, where our teen tour travelers will enjoy action-packed days tubing, water skiing and wake boarding on Lake Tahoe. We have one exciting stop left before heading to Hawaii – San Francisco! Here we'll ride the cable cars up and down the hills of the city, explore Fisherman's Wharf, walk down Lombard Street and enjoy delicious ice cream sundaes at Ghirardelli Chocolate Factory.
Our Hawaiian Caper finally heads to the land of paradise as we jet to Maui to begin the Hawaiian leg of our summer teen tour adventure. Enjoy the beautiful pools and beach at our beach-front resort, the Sheraton Maui Resort & Spa. Dive 100 feet below the ocean's surface on our out-of-this-world Submarine Trip. A great day of snorkeling awaits us as our 65-foot catamaran sails to Molokini Crater. We'll enjoy a barbecue lunch, a fun waterslide, and superb snorkeling amongst colorful tropical fish and giant sea turtles, during our snorkel cruise adventure.
Our short jet flight takes us to the "Big Island" where we will soak up the sun at our outrageous resort. We'll tour the Big Island, visit Volcanoes National Park and run barefoot on the Black Sand Beaches.
The last three nights of your summer teen paradise are spent on the island of Oahu, at the amazing Hyatt Waikiki in Honolulu. Visit Pearl Harbor, enjoy the view from the top of Diamond Head and take a fun trip to the University of Hawaii. Professional Surfing lessons on Waikiki Beach will make the final day of our summer teen tour unforgettable!
You'll board our regularly scheduled jet for our flight home with your new teen tour friends and unbelievable memories of your summer teen tour adventure to Hawaii and the Pacific Coast.