Join us this summer for a once-in-a-lifetime experience on our Project Ecuador program. Experience the joy of volunteering your time while also traveling throughout this beautiful country, participating in fun adventures and exploring the rich, local culture. Our teen participants volunteer throughout their time in Quito and the Amazon Jungle, earning a total of 40 hours of community service. Our time in the Galapagos Islands is spent participating in exciting activities while exploring these unique islands.
Watch Video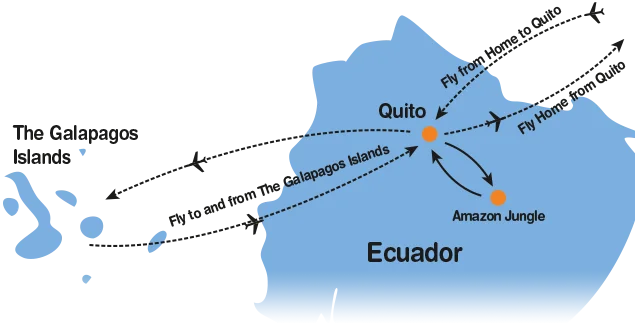 The goal of our Project Ecuador program is for our participants to not only help the local communities but to also learn about themselves and to grow through their experiences. Upon completion of Project Ecuador, each participant will receive a certificate recognizing 40 HOURS of SUMMER COMMUNITY SERVICE. Our projects are designed to create meaningful bonds between our volunteers and those they are helping. Participants volunteer Monday - Friday while in Quito, and throughout their stay while in the Amazon.
Our first week in Ecuador is spent living, volunteering, and experiencing all the capital city of Quito has to offer. Weekdays are spent volunteering each morning, participating in fun local activities in the afternoons, and enjoying great evenings throughout this historic city. For our second week, we head into the exotic Amazon Jungle. Days are spent volunteering, participating in adventurous activities, and experiencing the local culture at night. The third and final week is spent in the awe-inspiring Galapagos Islands, traveling throughout the islands learning about this most unique destination. Days are spent swimming, snorkeling, and hiking our way past exotic animals such as giant tortoises, Galapagos penguins, and Blue-footed Boobies.
Project Ecuador is an incredible opportunity to experience the different peoples and cultures of a unique part of the world. You should come to the program with an open mind and positive attitude, excited about new experiences, ready to fully participate in volunteer work and cultural exploration, and willing to challenge yourself to step outside of your comfort zone. Each one of our teenagers is a partner in making our trip through Ecuador a once-in-a-lifetime experience!
All of our teenagers participate in the following Community Service Projects:
Group Size:
The Project Ecuador program accommodates up to 34 participants, which fosters expanded social interactions and friendships within the group during all of our activities.
Accommodations:
During the Project Ecuador program, our participants stay in safe, secure, and centrally located hotels and lodges that reflect the local character of each part of the country that we visit. All of our accommodations provide amenities and facilities that allow for comfort and a good night's sleep.
Meals:
While in Quito, our group enjoys the great full breakfast buffet at the JW Marriott, and lunch and dinner are eaten at various restaurants throughout the city. While in the Amazon, we eat our meals in the lodges' restaurants, with the option of always sampling the local cuisine. In the Galapagos Islands, we eat breakfast and dinner (served family-style) at our hotel, and lunch is enjoyed while on our daily excursions throughout the islands. No matter where we are, there is always an option for every type of diet.
Staff:
Our staff members are teachers and graduate school students who are committed to Project Ecuador's ideals of volunteering, exploring, and learning from different cultures. Rein Community Service staff members are always present at each service site. All staff members attend our professional training workshops where the emphasis is placed on the safety and well-being of our teenage participants. Program leaders are trained in Basic First Aid and CPR. All service sites are additionally staffed by local bi-lingual volunteer coordinators.
Transportation:
While in Quito and the Amazon, Project Ecuador uses professionally driven buses and vans to transport our participants to their various projects and activities. The flights between Quito and the Galapagos Islands are on regularly scheduled, full-size jet planes. During the Galapagos Islands portion of the program, we utilize professionally captained charter boats to explore the islands.
Communication:
The Rein Communication Center is available 24 hours per day, 7 days per week throughout the program. Teenagers are permitted to bring their cell phones.
For a complete description of the Rein Community Service Project Ecuador, The Amazon & Galapagos Islands, Request a Rein Teen Tours & Community Service Brochure.