Our 21-day program in Thailand and Cambodia introduces our teenagers to the people and cultures of these two unique countries through travel, cultural exploration, and community service. You should come to this program with an open mind and positive attitude, excited about new experiences, ready to fully participate in cultural activities and service work, and willing to challenge yourself to step outside of your comfort zone. Each one of our teenagers is a partner in making Adventure Thailand a once-in-a-lifetime experience.
Watch Video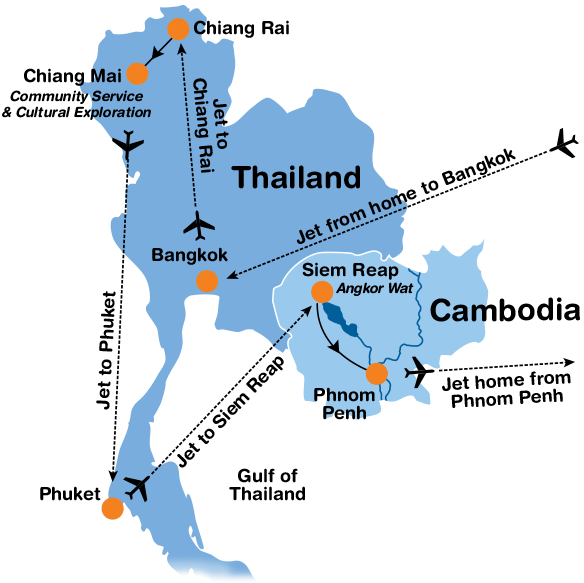 Our adventure begins as we travel to Bangkok, the mesmerizing capital of Thailand and one of the most exciting cities in the world. We will marvel at the golden palaces and magnificent grand temples as we cruise through the city's famous canals. Next, we'll head to northern Thailand and the town of Chiang Rai, where we'll bike through small villages and rice fields and take in the awe-inspiring white temple, Wat Rong Khun. Next our journey takes us to the vibrant city of Chiang Mai, where we'll find unlimited opportunities for exciting adventure and enriching cultural exploration. Learn the art of Muay Thai kick-boxing, brave the rapids as we white-water raft on the Mae Taeng River, learn to cook local food at our Thai cooking school, and hike to the top of Doi Suthep for unparalleled views of the city and beyond. Our next stop is the enchanting island of Phuket, home to gorgeous beaches and magnificent sunsets. Trek through the lush jungle and receive a monk's blessing, visit the Big Buddha on Mount Nagakerd, take in the award-winning Phuket Fantasea show, and bask in the sunshine in this tropical paradise. Throughout our stay we will feel the warmth and welcoming hospitality of the Thai people, which has earned Thailand the nickname "The Land of Smiles."
Next, we board our flight and head to Siem Reap, Cambodia - the gateway to mystical and mysterious ancient worlds. We will marvel at one of the awe-inspiring Seven Wonders of the World, the Temple City of Angkor Wat, where the power of the encroaching jungle and the beauty of the architecture have made this one of the world's most celebrated ancient sites. We'll hike through deep forests as we come upon Angkor Thom, the Tomb Raider Temple, home to the mysterious smiling statues of Bayon. Walk through Ta Prohm, a city slowly being reclaimed by Mother Nature. Get ready for an adrenaline-packed adventure as we zoom over the jungle canopy on our exciting zip-line course! Experience the amazing energy of the world-renowned Cambodian Circus, Phare. We'll finish this amazing journey through Thailand and Cambodia as we take our sunset cruise in the vibrant city of Phnom Penh.
Throughout our journey we will have meaningful opportunities for community service and enriching cultural experiences. We will spend time with the children at a pre-school for underprivileged chindren in Bangkok, sponsor a meal and play with kids at a group home in Northern Thailand, and participate in a cultural exchange with school children in Chiang Mai. Travel to the countryside to feed, bathe, and care for elephants, learn about Buddhism and exchange ideas with novice monks, visit with a Hill Tribe in northern Thailand, and take in a traditional Thai dance presentation. Upon completion of the program, each participant will receive a certificate recognizing 20 hours of community service.
All of our teenagers participate in the following Community Service Projects:
All of our teenagers will also participate in the following cultural activities:
Group Size:
Our Adventure Thailand summer program can accommodate up to 24 participants, which fosters expanded social interactions and friendships within the group during all of our activities.
Accomodations:
During Adventure Thailand, our group stays in safe, secure, and centrally located hotels that reflect the local character and culture of each part of Thailand and Cambodia that we visit. All of our accommodations provide amenities and facilities that allow for comfort and a good night's sleep.
Meals:
Throughout Adventure Thailand we will enjoy the local cuisine in these culturally rich locations. Thai meals are known for their amazing complexity, combining sweet, sour, salty, bitter, and spicy ingredients, with each part of Thailand being known for its own local style. In Cambodia we will be introduced to Khmer food, which traditionally consists of contrasting flavors, textures, and temperatures along with herbs, vegetables, and dipping sauces. Sometimes comfort food is just what you need, so we will also have the opportunity to dine at Western-style restaurants during the program. Enjoy breakfast at our various hotels and lunch and dinner in local restaurants.
Staff:
Our staff members are teachers and graduate school students who are committed to Adventure Thailand's ideals of volunteering, exploring, and learning from different cultures. Rein Community Service staff members are always present at each service site and each activity. All staff members attend our professional training workshops where the emphasis is placed on the safety and well-being of our teenager participants. All staff members are certified in Basic First Aid and CPR. All service sites are additionally staffed by local bilingual guides.
Transportation:
Adventure Thailand uses professionally driven vans and buses to transfer our participants to their various projects and activities. All internal flights in Thailand and between Thailand and Cambodia are on regularly scheduled commercial jets.
Communication:
The Rein Communication Center is available 24 hours per day, 7 days per week throughout the program. Teenagers are permitted to bring their cell phones and can use wifi when available.
For a complete description of the Rein Community Service Adventure Thailand, Request a Rein Teen Tours & Community Service Brochure.