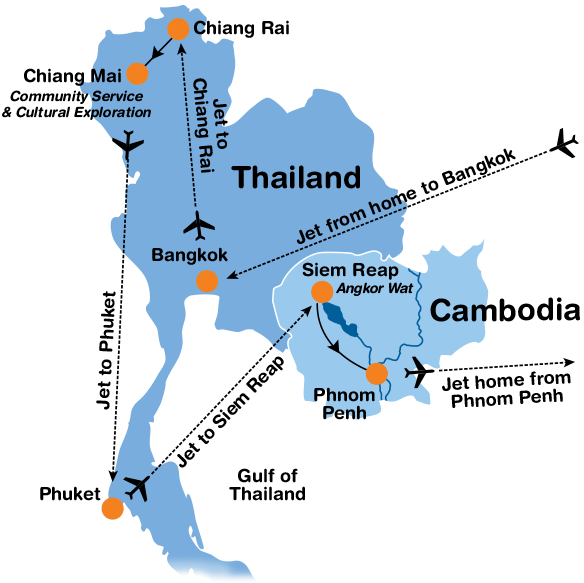 All of our teenagers participate in the following Community Service Projects:
All of our teenagers will also participate in the following cultural activities:
Group Size

Our Adventure Thailand summer program can accommodate up to 24 participants, which fosters expanded social interactions and friendships within the group during all of our activities.

Accomodations

During Adventure Thailand, our group stays in safe, secure, and centrally located hotels that reflect the local character and culture of each part of Thailand and Cambodia that we visit. All of our accommodations provide amenities and facilities that allow for comfort and a good night's sleep.

Meals

Throughout Adventure Thailand we will enjoy the local cuisine in these culturally rich locations. Thai meals are known for their amazing complexity, combining sweet, sour, salty, bitter, and spicy ingredients, with each part of Thailand being known for its own local style. In Cambodia we will be introduced to Khmer food, which traditionally consists of contrasting flavors, textures, and temperatures along with herbs, vegetables, and dipping sauces. Sometimes comfort food is just what you need, so we will also have the opportunity to dine at Western-style restaurants during the program. Enjoy breakfast at our various hotels and lunch and dinner in local restaurants.

Staff

Our staff members are teachers and graduate school students who are committed to Adventure Thailand's ideals of volunteering, exploring, and learning from different cultures. Rein Community Service staff members are always present at each service site and each activity. All staff members attend our professional training workshops where the emphasis is placed on the safety and well-being of our teenager participants. All staff members are certified in Basic First Aid and CPR. All service sites are additionally staffed by local bilingual guides.

Transportation

Adventure Thailand uses professionally driven vans and buses to transfer our participants to their various projects and activities. All internal flights in Thailand and between Thailand and Cambodia are on regularly scheduled commercial jets.

Communication

The Rein Communication Center is available 24 hours per day, 7 days per week throughout the program. Teenagers are permitted to bring their cell phones and can use wifi when available.